I shoot both still images and video when swimming in the sea. The photographic work reveals some surprising and beautiful characteristics of the ever changing seascape. Moving images from the intimate viewpoint of the swimmer can also be an intense visual and aural document, both hypnotic and unsettling.
Full quality DVDs are available by mail order. Please enquire using the contact page.
Limited edition box sets available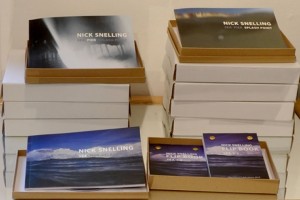 The Box sets were created in an edition of 30 copies to accompany my exhibition at the Blackshed Gallery in 2014.
Each box contains:
A full colour illustrated book with essay
DVD with Sea1, Pier1 or Splash Point
Two flip books to accompany each film
All housed in a beautiful box of recycled card
Please contact Blackshed Gallery to purchase.